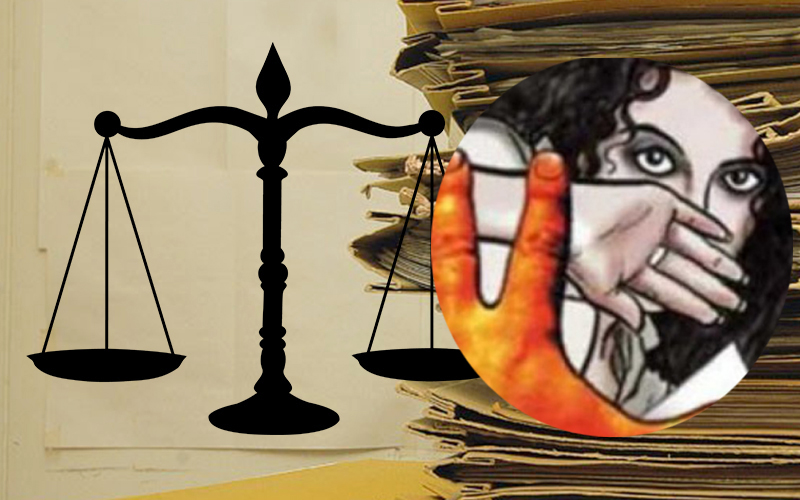 Fast track courts set up in India to hear rape cases has failed to yield the desired results as the number of pending cases has increased by more than 1,33,000 by the end of 2016 from about 1,00,000 in 2012 as per National Crime Records Bureau data. The government had framed strict anti-rape laws for taking stringent action against rape accused but they roam scot-free after committing the crime. Rape laws were amended to create fear among rapists to deter them from committing the crime but accused continues to commit rapes without being worried about the law. Around 399 fast track courts are functioning in the country but the rising number of pending rape cases raises a question mark about the slow paced justice delivery system.
Criminal lawyer Abbas Kazmi said, "Rape cases should get immediate disposal.
Conviction rate is less and therefore, people of criminal mind get the confidence to commit rapes. Many times police fail to register the complaints of the victims. So they seek judicial intervention which is time-consuming and money is wasted. In most of the cases, victims don't come forward to complain as they are being pressurised."
According to the statistics, since 2012, reported rape cases have surged 60 per cent to around 40,000 in 2016 and child rape accounted for about 40 per cent. The conviction rate of people arrested for rape remains stuck at around 25 per cent. Thus, crimes against women have increased and pendency of cases too has risen. If the situation continues to remain in this manner then people will lose faith in the Indian judicial system.
State BJP vice-president Neeta Kelkar said, "As per recent Supreme Court judgement if couples in a relationship indulge in sexual relationship with mutual consent, then it won't be considered as rape. So there is a need to clarify the definition of rape."
"Earlier, I demanded capital punishment for rape. We had organised a signature campaign for the same. Such cases needed to be heard in the fast-track courts and there is a need to change people's mindset," she added.
Often there is a delay in the arrival of the police report and forensic evidence data collection. Many times witnesses turn hostile and don't appear in court thereby resulting in deferment of court proceedings. Political interference in judiciary and investigation process is another factor that creates hindrance to justice delivery. Due to a shortage of judges, they are unable to give enough time to each case. Despite a large number of vacancies in courts, the government is reluctant to fill them up.
Advocate Sanjeev Punalekar, National Secretary of Hindu Vidhidnya Parishad said, "There is a lack of coordination between the judiciary and politicians. Rape cases are high in those states which have patriarchal and casteist mindset."
"Rape cases will decline when society starts respecting women. Women should get more representation in each segment, there should not be any discrimination against them," he added.
There is also a need for computerisation of courts but it is happening at a snail's pace. Various other factors responsible for the delay in disposal of cases include lack of court management systems, lawyers going on strike and lack of infrastructure to monitor pending cases. To make matters worse, budgetary allocations for the whole judiciary are a pathetic 0.1 per cent to 0.4 per cent of the whole budget.
Former judge of Bombay High Court Justice B.G Kolse-Patil said, "Our judicial system was enacted in the British reign but now our population has increased but the judiciary has failed to keep pace. Special court needs to be set up to hear rape cases. Since judges have a backlog of cases, they are unable to deliver justice to everyone.
"Investigation agencies are not carrying out thorough probe which is responsible for poor conviction rates. The judicial system can be improved through public pressure or through structural reforms. The judiciary needs to be independent," he added.
Often death sentence is awarded to the accused but there is a delay in convicting them. For instance, the Supreme Court had awarded death sentence to four accused Vinay Sharma (23), Akshay Thakur (31), Mukesh (29) and Pawan Gupta (22) in the Nirbhaya gang rape cum murder case but they are yet to be convicted. While Ram Singh, the 35-year-old main accused in Nirbhaya's brutal gang rape, was found dead in his cell in Tihar Jail in 2013, the fifth accused was not tried as he was a minor. Judicial experts have often called for the overhaul of judiciary system but the government turns a blind eye towards it.
After the Kathua and Unnao rape incidents, Women and Child Development Minister Maneka Gandhi had called for an amendment to the POCSO Act and demanded death penalty for the rapists of minors below 12 years. Will the amendment of rape laws deter rapists from indulging in rapes? There is a need to change people's mindset first and teach them to respect women.