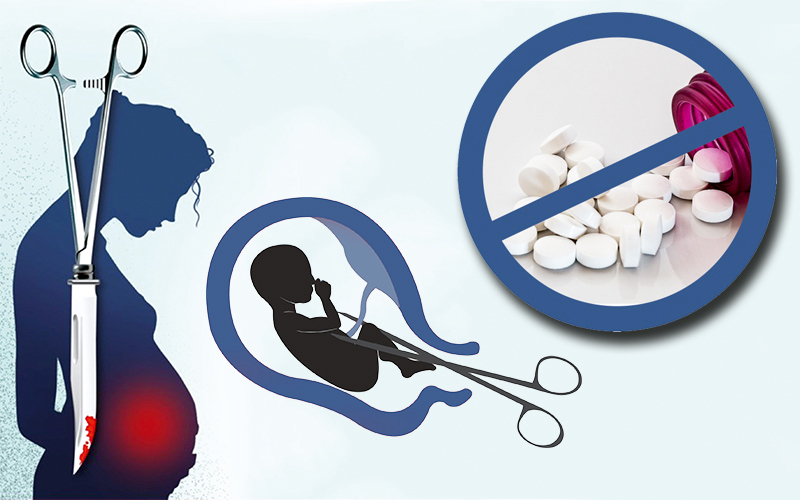 The Modi government might have launched the high profile 'Beti Bachao, Beti Padhao' campaign aimed to empower girl child but it is not doing enough to curb female foeticide in the country. Prime Minister Narendra Modi has appealed to fathers to click and share a selfie with their daughters to spread awareness about saving a girl child but the skewed male-female sex ratio raises question about the success of the campaign. A government report shows that India has an alarming imbalanced ratio of boys to girls. The female child population in the age group of 0-6 years declined from 78.83 million in 2001 to 75.84 million in 2011. During the period 1991-2011, the child sex ratio (0-6 years) declined from 945 to 914. The major reason for the decline in female birth ratio is due to injustice meted against the girl child at the time of her birth or even before her birth.
NCP leader Vidya Chavan said that female foeticide is a serious issue and today mothers get upset if they give birth to a girl child. She said, "Gender differentiation and different treatment for both genders are key challenges for our society. Campaigns like 'Beti Bachao, Beti Padhao' are mere slogans but no result is visible on ground. Illegal abortion centres are running in both urban and rural areas. People must respect women and girl child should be educated."
India has one of the highest female foeticide incidents in the world. As per the 1991, 2001 and 2011 Census date, urban India has higher contrast in child sex ratio as compared to rural India. Women have to face pressure from their families to give birth to a male child. Therefore, she is forced to undergo sex determination test and she is asked to abort the baby if it is a girl. Despite the advancement of technology, the government has failed to curb female foeticide.
BJP spokesperson Shaina NC stated, "We have taken several initiatives for the empowerment of women and their education. However, government cannot do everything and the mindset of the people too needs to change."
Even today families crave for male child and consider him as the bread winner of the family as they look down upon the girl child. Girl child is considered as a burden as parents have to shell out huge amount of dowry for her marriage and therefore, they consider her as a liability. Female foeticide has an adverse effect on the development of the country.
Shiv Sena spokesperson Neelam Gorhe expressed that the government has taken various initiatives for women's welfare. She said, "There should be better coordination between various departments of the government for implementing the policies meant for women's prosperity."
"Steps must be taken to provide education to girls and enhance their safety. When I attended the UN press conference, I also raised the topic of female foeticide," she added.
The ratio of young women is further expected to decline in coming years as per a report by Ministry of Statistics and Programme Implementation. As per a data released by the World Bank, the sex ratio will further decline by the year 2031. Even though strict ban has been imposed on sex determination of child during pregnancy but female foeticide incident is rampant across the nation.
Dr Abhilash of Shangiri Medical Centre said, "The inclination for male child and the availability of sex-selective processes, although illegal in India, means there's a gender gap of as many as 63 million girls, classified in the report as 'missing'."
"Many illegal abortion centres are mushrooming in metro cities but government has no mechanism to track them and punish because they are running under the cover of maternity or gynaecology centers. Targeting females for abortion is rampant across the nation, even though it is technically unlawful," he added.
The slogan 'Pre-Natal Sex Scanning is a Crime' is all over government hospitals with huge fines and imprisonment notices, but they do not scare anyone because our nation has been deeply rooted in abortion since its legalisation in 1971. The Mumbai High Court ruled that prenatal sex determination implied female foeticide.
Adhik Kadam, Borderless World Foundation (BWF) told AV that sex determination violated a woman's right to live and was against India's Constitution. He said, "PM Narendra Modi's Beti Bachao, Beti Padhao or 'Save Girl Child, Educate Girl child' campaign has been underway in many Indian communities since 2014. The campaign uses the media to raise awareness of the gender disparities creating, and resulting from, sex-selective abortion. India is changing with government's efforts, but society needs to take major responsibility."
The government had passed the Pre-Conception and Pre-Natal Diagnostic Techniques (Prohibition of Sex Selection) Act to ban the practice of pre-natal sex determination but it has failed to yield the desired result due to weak implementation of the law and easier access to ultrasonography. There is a lack of proper mechanism to check sex determination in remote areas of the country. Moreover, pre-natal sex determination test can be carried out at cheap rates in the country.
Purnima Mistry, a housewife and a mother of three daughters told Afternoon Voice, "In our modern India, even now, there are places where inexperienced village midwives have been known to put a dollop of unhusked rice into the (newborn's) throat, so the soaked rice expands and chokes the child to death. These untrained midwives even attempt abortions in their own non-medical way. This is horrible but this is the truth."