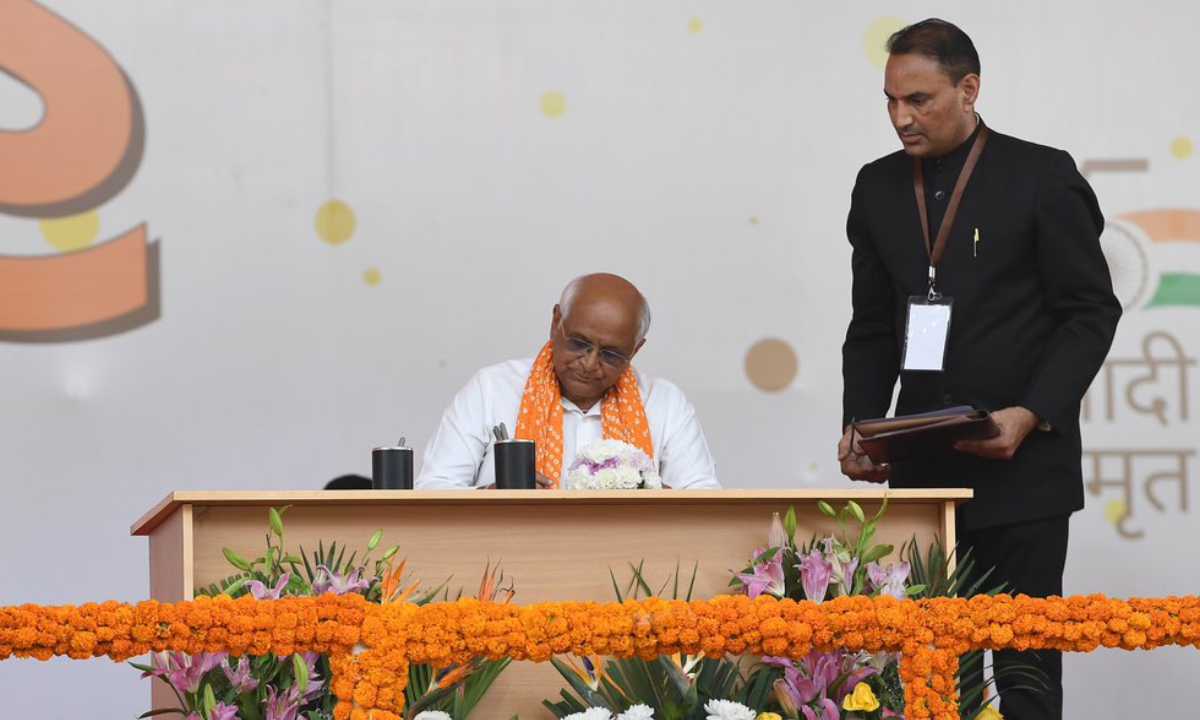 Bharatiya Janata Party (BJP) leader Bhupendra Patel took oath as the Chief Minister of Gujarat for a second consecutive time in Gandhinagar on Monday. Patel was administered the oath as the 18th Chief Minister by Governor AcharyaDevvrat at the Helipad Ground near the new Secretariat in Gandhinagar at 2 pm.
The ceremony was attended by Prime Minister Narendra Modi, Defence Minister Rajnath Singh, Union Home Minister Amit Shah and Chief Ministers of BJP-led states. Bhupendra Patel will take charge of the office, the very next day.BJP swept the Gujarat Assembly election winning a whopping 156 seats, which is the highest number of seats any party has won after the formation of the state in the year 1960. The BJP's seventh consecutive Assembly poll win in Gujarat is it's most significant since the founding of this state in 1960.
Gujarat BJP worker Nandita Thakur said "The Massive victory of the BJP in Gujarat has brought an end to all the lies that were peddled by the opposition parties against The Gujarat Model, the model which is the symbol of development through peace and Good Governance. Gujaratis from all walks of life voted for BJP despite being promised free electricity, water, money in accounts of women and youth etc by the opposition parties. Gujarat gets 24×7 electricity, tap water has reached every house, has the lowest unemployment rate in the country, farmers get zero per cent loans, Adivasis' life has changed under BJP Government, and peace and security Gujarat enjoying for the last many years. The Smart Gujaratis know only Bharatiya Janta Party can take Gujarat to new Heights".
A BJP worker Ramesh Solanki said, "The double engine Sarkar of Narendra-Bhupendra will do wonders Bhupendra Patel Ji is very humble and very well connected to mass Under his leadership Gujarat will surely climb new heights People of Gujarat have shown complete faith in Narendra-Bhupendra duo."
Suresh Nakhua, spokesperson of BJP said, "With Bhupendra Patel Ji as Chief Minister and under the guidance of Hon' PM NarendraModiji, Gujarat will attain new heights of Development and progress."
He also served as the Vice Chairman of the Ahmedabad Municipal Corporation School Board between 2008 and 2010. Later, he served as a Corporator from the Thaltej ward from 2010 to 2015. During this tenure, he served as the Chairman of the Standing Committee of Ahmedabad Municipal Corporation (AMC).
In 2015, he was appointed as the chairman of the Ahmedabad Urban Development Authority (AUDA). In 2017, Patel became a Member of the Legislative Assembly (MLA) for the first time, by winning the election from the Ghatlodia constituency with a wide margin of 1, 17,000 votes. Born on July 15, 1962, in Ahmedabad, Patel holds a Diploma in Civil Engineering from Government Polytechnic, Ahmedabad. He is a member of the RashtriyaSwayamsevakSangh (RSS). He is also an active member of PanditDeendayal Library managed by RSS at Memnagar.
Nishant Varma, Political Analyst told Afternoon Voice, "Gujarat 2022 Election results were an outcome of rigged class 3 & 2 officers, who were employed under BJP regimes. The results are not the outcome of what voters punched the machines. AAP scoring many thousand votes in several Guj seats is an indication further, of how rigging officers is the new thing over rigging ballots or booths. Having lived in Gujarat for over 3 decades, I wouldn't call an average Gujarati so dumb that they will vote a party back to power; a party which has destroyed the economics of the state and welfare is at rock bottom. Additionally, the primary opposition Congress doesn't seem to be interested in Gujarat politics anymore, knowing that the State's debt (from 4k crores in 2002 to 3 lac crores in 2022) is by no means repayable. CAG has already red-flagged the Gujarat Governance of BJP on this, and hence Cong wouldn't be stupid enough of taking the reins in hands of a lost state by all means. Gujarat shall witness a complete collapse soon. The media propaganda of Modi's win in Gujarat is all eyewash and distracts everyone from the primary point, which is "No one is interested in buying a looted house."