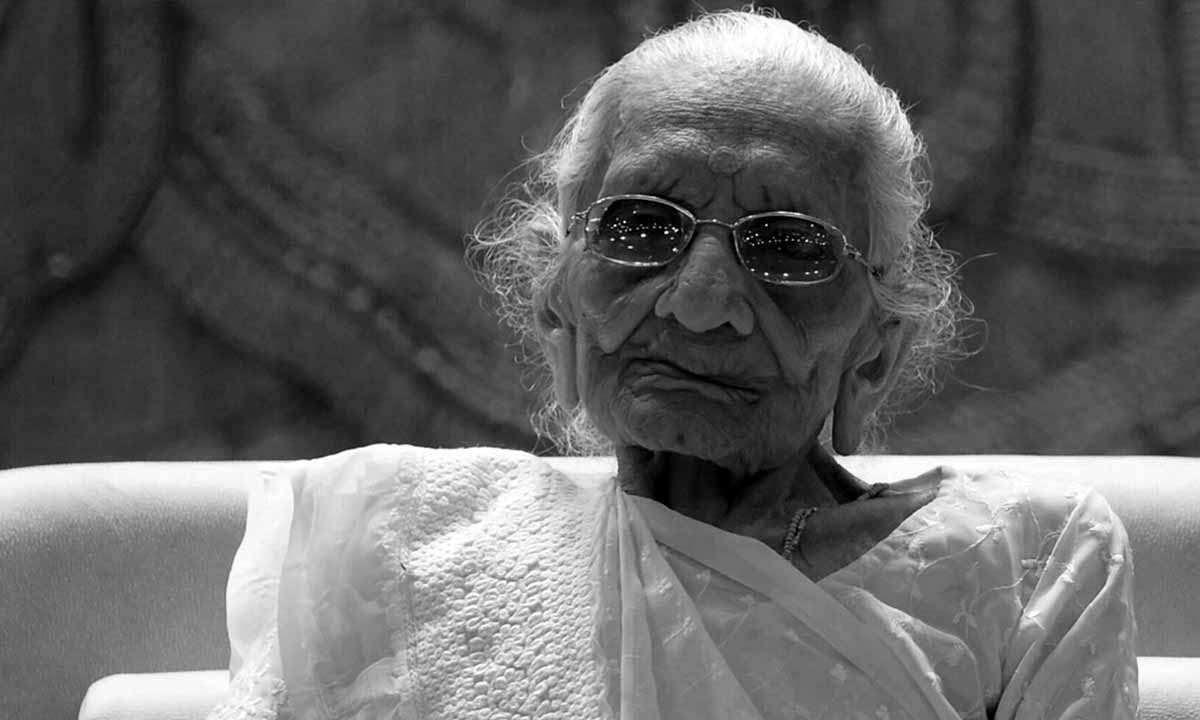 Heeraben Modi was a much-loved woman in India, many times she remained in news for various reasons. Heeraben used to live with PM Modi's younger brother, Pankaj Modi, at Raysan village near Gandhinagar. The Prime Minister would regularly visit Raysan and spend time with his mother during his Gujarat visits. In June this year, PM Modi wrote a blog on her 99th birthday. In the blog, the Prime Minister wrote about various aspects of his mother's life which "shaped his mind, personality and self-confidence. The Prime Minister, in the blog, says that compared to him his mother's childhood was extremely difficult, adding that she lost her mother early in her life and that continued to pain her.
Heeraben used to wash utensils at a few houses to help meet the household expenses. She would also take out time to spin the charkha to supplement our meagre income. At the age of 99, she was very healthy and active. Till the end, she did not suffer much because whenever we saw her with Modi ji she looked happy and very active. She lived a full life, and hopefully, she was satisfied with her life. A life that departs at 99 should be celebrated.
The Prime Minister, 72, was seen shouldering his mother's bier. The body was then put in an ambulance and the Prime Minister climbed in. The Prime Minister then performed the last rites. He was very calm and composed, rather accepting the fact that one day his mother had to depart as she lived her life to the fullest.
Narendra Modi was the third of six children born to Damodardas Mulchand Modi and Hiraben Modi. Modi's family belonged to the Modh-Ghanchi-Teli (oil-presser) community, which is categorised as an Other Backward Class by the Indian government. Modi had only infrequently spoken of his family background during his 13 years as chief minister of Gujarat. In the run-up to the 2014 national elections, he began to regularly draw attention to his low-ranking social origins and to have to work as a child in his father's tea shop on the Vadnagar railway station platform, a description that the evidence of neighbours does not entirely corroborate.
In a custom traditional to Narendra Modi's caste, his family arranged a betrothal to a girl, Jashodaben Chimanlal Modi, leading to their marriage when she was 17 and he was 18. Soon afterwards, he abandoned his bride and left home, never divorcing her, but the marriage remained unmentioned in Modi's public pronouncements for many decades. In April 2014, shortly before the national elections that swept him to power, Modi publicly affirmed that he was married and his spouse was Jashodaben; the couple has remained married, but estranged.
On October 7, 2001, as her son Narendra Modi took oath for the first time as the chief minister of Gujarat at the Helipad Ground in Gandhinagar, Hiraba Damodardas Modi, then 78 years old, sat in the front row among the audience. On seeing her, Anandiben Patel – who would go on to be a minister in that government and later become the chief minister of Gujarat and the governor of Uttar Pradesh – went to her and asked her to get on the stage. That was "the last public event" Modi that Hiraba attended, the Prime Minister wrote in his blog post on June 18, 2022, when Hiraba entered her centenary year.
Born in Visnagar near Vadnagar, Mehsana in 1923, Hiraba has been described by all who knew her, as "simple, healthy and affectionate".
In his blog, PM Modi says his late father Damodardas would also have celebrated his 100th birthday a week before his mother. "A few youngsters from the society had come home, my father's photograph was kept on a chair, there was a kirtan, and Mother was immersed in singing bhajans while playing the manjeera. She is still the same – age may have taken a toll physically, but she is as mentally alert as ever," Modi wrote. God is kind, Heeraben lived with dignity and departed peacefully.
Rest in peace dear Baa.