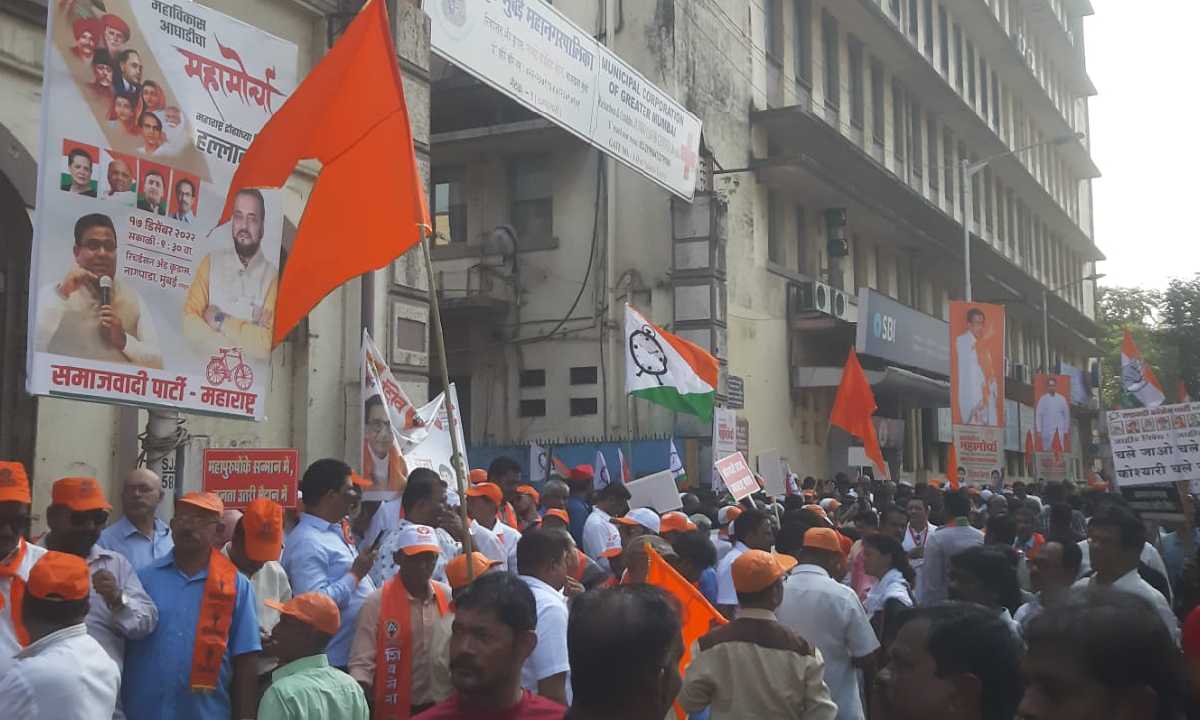 On Saturday around 9:30 am MahaVikas Aghadi (MVA)and many other parties organized "Mahamorcha" which started from Byculla Richardson and cruddas and ended near Azad Maidan, many people from various parties had joined this morcha demanding Governor Bhagat Singh Koshyari to be removed from his position and Maharashtra government is taking the hate remark made on the icons.
While BJP also carried another protest called "Maafimaang Morcha" against MVA on the same day stating a statement used by their parties towards icons as they have used disrespectful words and hence they won't tolerate the same.
When checked with people on ground reporting few people who joined MVA 'Mahamorcha' were not aware as to why are they a part of it.Some people who were a part of this protest they were demanding Maharashtra Governor Bhagat Singh Koshyari to be removed from his position in Maharashttra. NCP workers stated after using direspectful statements BJP always comes with an excuse of apology.
NCP spokesperson Clyde Crasto told Afternoon Voice "Disrespectful statements are been used against Chhatrapati Shivaji Maharaj by the BJP and people of Maharashtra won't tolerate the same so this protest is being taken place".
BJP corporator Aakash Raj Purohit said "It is Maha Bakwaas Morcha which is done by the MVA as they do not have knowledge and don't the history of the icons".
BJP corporator Vinod Mishra said "MVA is disrespecting many icons and they should be sorry for their remarks made and How can they compare Chhatrapati Shivaji Maharaj towards Uddhav Thackeray. Apart from that Uddhav and Aaditya Thackeray is busy funding criminals of Maharashtra".