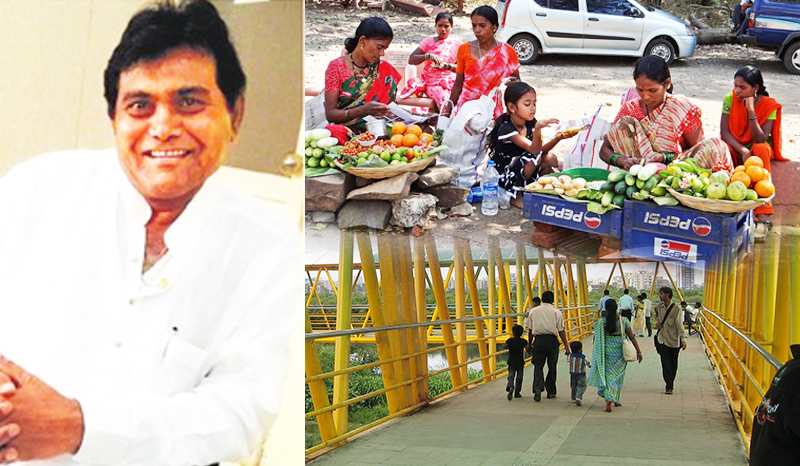 Footpath encroachment by hawkers, jam-packed streets, and pedestrians walking on roads risking lives— assuredly all these are very regular for Mumbai, its suburbs, and its residents. Mumbaikars hardly know that city's footpaths, be it broad or narrow, are made for walking at a comfortable pace! Walking through footpaths for the citizens of India's financial capital comes with — pushing other people to make their ways, facing human jam, managing to protect themselves from hitting another and finally risking lives by stepping down on the high speed vehicle-jammed roads. Squatters, hawkers and illegally parked vehicles on footpaths have robbed Mumbaikars of their right to walk on pavements.
Mumbai's woes just don't end here. Politics over hawkers' issue heats up from time to time. This time it is the former deputy Mayor Babubhai Bhawanji of the BJP who on Tuesday has announced a hunger strike for the welfare of street vendors near Veer Kotwal Udyan in Dadar (W) from April 11.
Voicing everyone's 'right to live and earn', Bhawanji said, "Mumbai, which is dominated by Shiv Sena, the BMC and police are dealing with hawkers in a cruel manner, which is condemnable and unacceptable." He has alleged that a policy for hawkers' welfare, formulated during the tenure of former prime minister Atal Bihari Vajpayee, is yet to get implemented in Mumbai. Bhawanji, who is also the foreman of Mumbai Hawkers Unit, demanded 'access for hawkers to sell their wares at the skywalks in the city that are lying under-utilised until a comprehensive policy comes into force'.
Shankar Salvi, General Secretary of Bombay Hawkers Union stated, "While BMC calls for hawker-free footpaths, they allow vehicles parking there. Undoubtedly, a way to walk is pedestrians' rights. Hawkers are not responsible for everything. Babubhai Bhawanji and Ashish Shelar are making fool of the hawkers for the upcoming Lok Sabha election in 2019. Ruling party is showing fake sympathy to the hawkers. We need proper place allotment and expect a smooth implementation of court's orders regarding hawkers' welfare."
Designated hawking zones exist in the city; marketplaces are also on tap for the legal vendors to sell their goods in a regulated manner without obstructing pedestrians' walkway. However, there are barely few hawkers who follow rules and the rest violate them.
When AV spoke to Babubhai Bhawanji, he informed, "The hunger strike is against the government that failed to protect hawkers' rights. Policy for hawkers' welfare, framed during Atal Bihari Vajpayee's government, is long pending and needs to be implemented soon. Hawkers are not able to feed their family and are unable to earn their living. BMC must take the responsibility."
Mumbai has already witnessed the tragic Elphinstone bridge stampede where 23 innocents lost their lives last year. This unfortunate incident supported the cause of encroachment-free footpaths, roads and bridges. Subsequently, the Bombay High Court restricted hawking to designated zones, while banning hawkers on foot and rail overbridges and within 150 metres of railway stations.
The welfare of hawkers should not be denied but Babubhai Bhawanji's push for designating hawkers at under-utilised skywalks calls the safety of pedestrians into question. While he reasoned it saying 'if hawkers start selling at skywalks, it will prompt pedestrians to start using the facility, which in turn, will ease the traffic congestion on the roads', he is yet to take the safety responsibility in case of over-crowdedness and the consecutive probability of unfortunate mishaps.
MNS leader Sandeep Deshpande stated, "Implementation of national hawker policy is needed. However, Babubhai Bhawanji should not take a call about hawkers getting access to the skywalks for selling goods. Let Mumbaikars and Municipal Corporation decide that. MNS will strictly oppose if hawkers get permission to encroach skywalks or areas close to railway stations."
Formation of Town Vending Committees (TVCs) is yet to become a reality as BMC's unsuccessful attempts have failed to select citizen members for the same. TVCs will handle hawkers' registration, issuing of licenses and demarcating vending/non-vending and restricted zones for hawking. The panel will work as a redress committee for both hawkers and citizens.
The Street Vendors Act, 2014, allows no vendor to carry out vending activities in non-hawking zones. It even directs the local authority to physically remove the hawker and make seizure of goods of such vendors who disregard rules. Isn't this the responsibility of the hawkers' unions across the city to oversee if regulations are properly being adhered to or not? Why are they failing to regulate the hawkers? Aren't they supposed to monitor the illegal hawkers and push the government for their earmarking? Despite Bombay HC's order, hawkers have gradually started encroaching areas adjacent to railway stations in the city. What about keeping an eye on them to prevent the high court's order from getting violated?
Nagar NGO trustee Nayana Kathpalia said, "Skywalk for hawkers is not a good idea. It is meant for people to walk. Who will assure that if they are allowed on skywalks, they will stop encroaching footpaths or roads? The government must follow and implement proper rules and regulations. Designated hawking zones and non-hawking zones will also help pedestrian to walk freely."