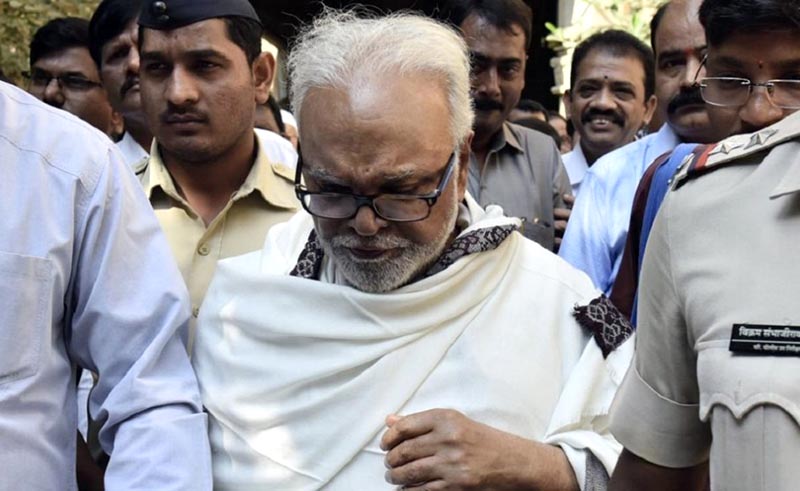 NCP leader Chhagan Bhujbal can finally heave some sigh of relief after he was granted bail by the Bombay High Court in the money laundering case. Bhujbal had applied for bail on five previous occasions but his plea was rejected. Has bail been granted to Bhujbal due to lack of evidence against him? Did investigation agencies fail to provide proper evidence to the court? A single bench of Justice P.N. Deshmukh granted bail to Bhujbal and directed him to pay Rs 5 lakhs as surety. Bhujbal has been asked to surrender his passport and he won't leave Mumbai without seeking permission of the court. Section 45 of the Prevention of Money Laundering Act (PMLA) restricts the granting of bail to any person booked for the offence and prescribes imprisonment for more than three years.
NCP spokesperson Nawab Malik said, "It is Bhujbal's legal right to get bail and we welcome the court's decision. We expect that he will be acquitted soon. He was denied bail earlier and there might be some political reasons behind it."
The Enforcement Directorate had arrested Bhujbal on March 14, 2016, in connection with the Maharashtra Sadan scam and Kalina land case in which the NCP leader and his relatives have been alleged to receive kickbacks. According to ED, Bhujbal and his associates had been involved in financial irregularities thereby causing loses to the state exchequer. Court has asked Bhujbal to appear before the Enforcement Directorate whenever he is summoned. He has already spent two years in the jail in connection with the money laundering case. Bhujbal, his son, NCP legislator Pankaj and his nephew Sameer are also co-accused in the money laundering case.
Criminal Lawyer Abbas Kazmi said, "Bail might have been granted to Bhujbal on humanitarian or medical grounds. I don't think that any politics is involved in this matter as Bhujbal's political career is on the downslide. NCP also had not taken any initiative to support Bhujbal."
Two months back, NCP supremo Sharad Pawar had written a letter to Chief Minister Devendra Fadnavis and cautioned that the state government would be responsible if Bhujbal suffered any "untoward fate in the days to come". He had urged the government to offer proper medical treatment to Bhujbal. "I am saddened to record that if Chhagan Bhujbal suffers any untoward fate in the days to come, your government will be held responsible for the same," Pawar stated.
Congress spokesperson Dr. Raju Waghmare said, "I welcome the court's decision. Not only Bhujbal but other convicts too can be granted bail until they are proven guilty. Since last two years, he was being denied bail."
"BJP government is trying to take advantage of loopholes in the judiciary for revenge politics. Why the Enforcement Department had kept him in custody for two years?" he asked.
In June 2015, the ACB had registered two FIRs against Bhujbal. The first one was related to alleged irregularities in allotment of a prime plot at Kalina in Mumbai to a developer. The second case was for alleged rampant corruption and large-scale irregularities in the construction of the new Maharashtra Sadan, the state government's guest house in Delhi.
Shiv Sena spokesperson Dr. Manisha Kayande said, "Bhujbal has been granted bail with an eye on the election. Every party wants powerful leaders during the election. Even Khadse has been given clean chit. There is a nexus between BJP and NCP. However, BJP has not taken any action against Ajit Pawar and Sunil Tatkare. BJP had raked up the irrigation scam while campaigning for election and promised to arrest these leaders after coming to power. However, they have fooled the people."
The Public Works Department (PWD) under Bhujbal had then allegedly awarded sub-contracts to firms, in blatant violation of rules, in the Maharashtra Sadan case. The FIR named him, his son Pankaj, nephew Samir and 14 others. The new Maharashtra Sadan was built at the cost of Rs 100 crores when the Congress-NCP coalition was in power in Maharashtra.
NCP leaders Ajit Pawar and MP Supriya Sule-Pawar welcomed the development while thousands of Bhujbal supporters erupted in celebrations with fireworks and distribution of sweets.
(Any suggestions, comments or dispute with regards to this article send us on [email protected])