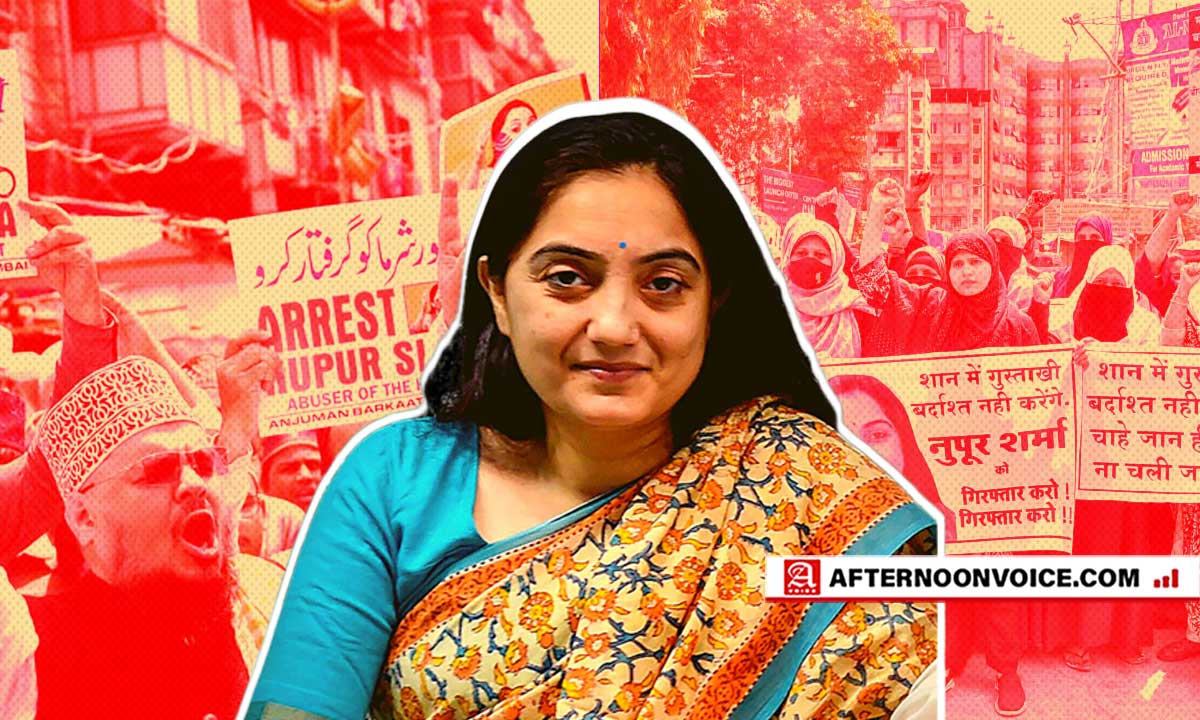 Suspended BJP leader Nupur Sharma has received a weapons license. She had requested permission to possess weapons because of the danger to her life. The question here is who is threatening her? If she is getting threats, what is the police doing? Isn't it a question mark on the efficiency of government? Meanwhile, why is there no protection for the common public who got killed and are still under danger for her statements? From whom she frequently received death threats and why her call records are not investigated to nab the culprits?
Just to remind you, on May 26, 2022, Nupur Sharma made a contentious remark against the Prophet Muhammad during a TV debate. This sparked violent protests at several locations and calls for Nupur Sharma's imprisonment. There was also the possibility of beheading. Sharma was part of the news debate on the Gyanvapi mosque issue, which was aired on Times Now, during which she made certain comments about Islam and the Prophet Mohammed that sparked widespread outrage in the Muslim community.
Soon after the controversy Nupur Sharma was suspended from the party following outrage. It is Nupur Sharma who kicked up a storm triggering international repercussions after she made a derogatory comment about the Prophet on a television channel debate. The party suspended her and distanced from the comment while several Islamic countries issued statements condemning the comment. Violent protests were witnessed in several parts of India and many innocent people had to shed their lives.
Nupur Sharma withdrew her remark and said her comment was not to hurt any religious feeling but a rebuttal at the television channel to the mocking of Shivling. Amid the protests across the country against Nupur Sharma, the Supreme Court in July 2022 held her responsible for setting the country on fire and said Nupur Sharma was single-handedly responsible for what was happening in the country at that time.
The Supreme Court in August 2022 noted the life threats to Nupur Sharma and clubbed all cases against her so that she does not have to travel to all states where cases against her are going on. In the petition filed by Nupur Sharma, it was said that 9 FIRs are registered against her at different places and all of them should be transferred to one place so that she does not have to travel to different cities of the country.
Nupur Sharma's lawyer Maninder Singh had said that her client's life is in danger and she is getting threats from all over the place. To this the court said that we want to uphold your legal options. Interestingly, many have not taken lightly to the remarks of the top court pointing out that the plea for clubbing of FIRs is a reasonable prayer made by Sharma and also a procedural safeguard laid down by the apex court itself.
The Court was not convinced about the impartiality of the probe by a police force which falls under the party to which Sharma belongs. That said, the bench could have exercised its powers to club and transfer the case for trial to a State not under the BJP rule.Multiple FIRs in different States for the same offence is an unhealthy and incorrect precedent.
Several offshoot incidents followed the Nupur Sharma row as a 54-year-old chemist in Amravati was killed for a social media post in support of Nupur Sharma. In Udaipur, a tailor was hacked to death after he extended support to Nupur Sharma on social media.
Following the suspension, Nupur Sharma, a prominent face in television debates, has been living in the shadows though the controversy is far from being a thing of the past. Recently, AIMIM MP Asaduddin Owaisi said he will not be surprised if Nupur Sharma contests from Delhi in the 2024 Lok Sabha election.
What Nupur Said was not in good taste but are those who got offended by what Nupur Sharma said, and threatened to kill her genuine or good Muslims? No, none of them are good Muslims. Why so much noise around the world for Nupur Sharma Statement? Politics demands more people to die or lose livelihood in the name of gods and prophets and religious books? I don't support Nupur Sharma, neither do I support those Muslims making noise and threatening to kill her or demand her death.