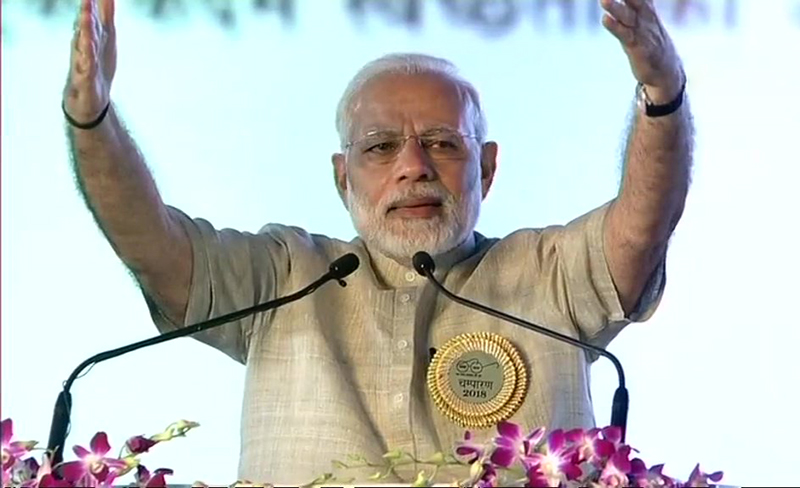 Prime Minsiter Narendra Modi praised the leadership of Bihar Chief Minister Nitish Kumar and his deputy Sushil Kumar for the success of the weeklong Swachhagraha Campaign in the state.
Addressing around 20,000 Swachhagrahis or the Ambassadors of Cleanliness in Motihari, on the concluding centenary celebration of Champaran Satyagraha, the Prime Minister said, "Under the leadership of Nitish Ji and Sushil ji, the work that Bihar has done in the past few days has boosted everyone's morale. Bihar was the only state where the scope of hygiene was less than 50 percent, but I have been told that after this week's Swachhagraha campaign, Bihar broke that barrier."
At the event named 'Satyagraha to Swachhagraha', the Prime Minister also awarded ten Swachhagrahis, who performed outstandingly in their villages, and congratulated the people, the 'Swachhagrahis' and the Bihar Government for construction of more than 8,50,000 toilets in the state in the last one week.
Swachhagrahis are the 'foot soldiers' and motivators to implement the Community Approaches to Sanitation (CAS) at the village level.
"A hundred years ago, people from all over Champaran had worked street-to-street, headed by Gandhi. A hundred years later, people from different parts of the country came here with the same sentiments and worked with enthusiastic youngsters, and Swachhagrahis," he added.
Mahatma Gandhi had launched the Champaran Satyagrah over a century ago, on April 10, 1917 against the Britishers to fight for the rights of farmers who were forced to undertake indigo cultivation.
Prime Minister Modi further said that the Centre and state government were working in tandem for Bihar's development, "Whether it is the Swachhta mission, the fight against black money, or the development of facilities related to the general public, the central government is shoulder-to-shoulder with Nitish Ji and his team. For the development of Bihar, the Centre and state government's schemes and strategies complement each other."
He also unveiled several development projects such as the inauguration of Motijheel Project, Bettiah Nagar Parishad water supply scheme under Atal Mission for Rejuvenation and Urban Transformation (AMRUT), four sewerage projects aimed at creating a sewage-treatment capacity of 60 million litres daily for Patna, under Namami Gange, doubling of Railway lines between Muzaffarpur and Sagauli, and Sagauli and Valmikinagar and flagging off of first 12000 HP Freight Electric Locomotive and Champaran Humsafar Express with many more other projects.
On the occasion, the PM also took a shot at the Opposition, "The Government is now completing its every mission and resolution with the help from the public, but some people are not able to accept the change, they can't digest that the poor are being empowered. They think that if the poor get strong, they will not be able to lie and mislead them. That is why, from the streets to the Parliament, they are creating hurdles in government's work. This government is working to join the masses, while on the other hand, some enemies are working to divide them."